London (6.2.2012):
20 people picketed the Ukraine embassy today to demand that the Somali hunger strikers in the detention centre near Lutsk be released immediately. Among those present were a relative of one of the men protesting in the detention centre, and Zakariye Haji Abdi, the former Somali Minister for Information and Telecommunication, Higher Education and Culture, Acting Foreign Minister and the leader of Alliance for the Re-liberation of Somalia. The embassy security head refused to allow a letter supporting the hunger strikers' demands to be delivered. The Ukraine ambassador to London, Volodymyr Khandogiy, himself a former acting Foreign Minister and also ambassador to Belgium, Luxembourg, the Netherlands and NATO, will receive it courtesy Royal Mail tomorrow morning instead. Among demands on placards displayed to the embassy staff and passers – by were:
Stop arbitrary detention of migrants. Residence papers for all!
Ukraine stop violation of refugees' human rights – say UNHCR, Amnesty International, Human Rights Watch
Free the Somali hunger strikers in Lutsk detention centre!
One month on hunger strike, Somalis demand: Freedom, Residence documents, Stop police persecution. The picket was called by the Support Committee for the Somalian Hunger Strikers In Lutsk Detention Centre.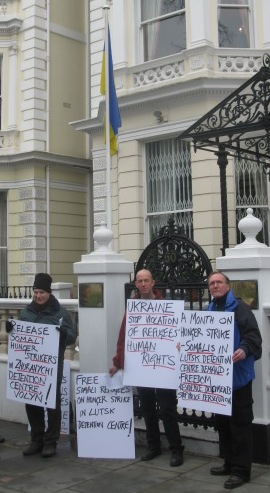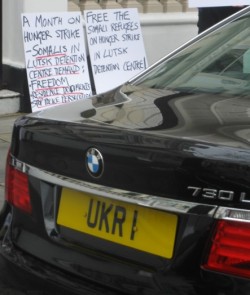 Frankfurt (7.2.2012):
About 20 people participated in a protest today in front of the general consulate of Ukraine in Frankfurt to demand the freedom of Somalian refugees in detention camps in Ukraine. Flyers have been distributed to visitors and in two speeches the situation and demands of the hunger-striking refugees have been explained through a megaphone. One of the speakers was a young Somalian, who is currently living in Germany, who experienced detention himself  in the same Ukrainian detention-camps in 2009. An attempt to contact the consul failed as he refused any kind of communication with protesters. But a petition to forward the demand for freedom for the hunger-strikers to the decision-makers in Ukraine was put into the letterbox.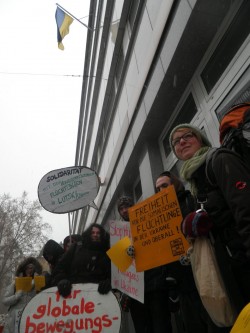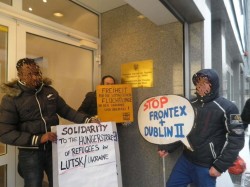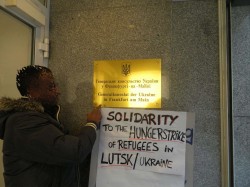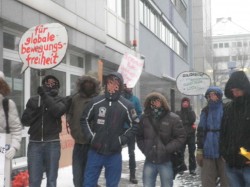 Berlin (8.2.2012):
Approximately 30 people joined the demonstration in front of the Ukrainian embassy in Berlin. Speeches were hold and banners were shown to show the Ukrainian authorities that it is well known in European Union countries what they are doing.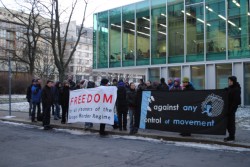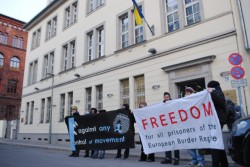 Munich (10.2.2012):
25 people joined the protest in front of the Ukrainian consulate in Munich. Around 15 Somalian refugees took part in the protest as well: Most of them had experienced detention themselves in the Ukrainian detention centres on their way to Germany. At the end of the demonstration a resolution was handed over to the Ukrainian consular and he promised to forward it to the Ukrainian Ministry of Interior.