"The European Commission had already allocated EUR 30 million under its ENPI 2007 National Programme for Ukraine improving infrastructure and procedures related to the accommodation and treatment of irregular migrants ("Readmission-related assistance"). Under this project, it is planned to create five additional Migrant Custody Centres in Ukraine. The Ministry of Internal Affairs has already pre-selected some sites which need now to be evaluated for their suitability for being refurbished into custody centres." (Dirk Schuebel 2008, ICMPD GDISC ERIT Newsletter No. 1)
In the moment, it is planned to built up one of these additional detention centres in Dercen. Members of the BMPU visited the village in March 2010.
About Derecen
Dercen is a village with about 3000 citizens. All hungarian speaking. It's a village like many others in the region: The income is low, almost everyone has a garden and animals. In the village exists only one shop. A restaurant which is closed sundays with disko for the youth in the evening. Two or three places to buy drinks. Dercen is located near to the former detention centre Pavshino, which was closed in December 2008. Dercen is about 20 kilometres away from the border to Hungary.
History of the territory, where the camp should be constructed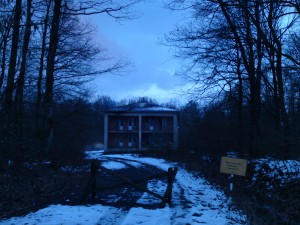 The territory was used by military from the 1950-ies to the late 1980-ies. Ttill now, it belongs to the Ministry of Defence. Now it should be given to the Ministry of Interior. Citizens of Dercen speak about "recommunilization" of this object. Because of higher cancer rates in Dercen in 2004 a reseacher group from Holland examinated the water in the village. They proofed, if the source of polluted water was the former military base in the forest. The soldiers didn't use their fountain already in the 80-ies.  2004 it became official,  that the military base is polluted.
Actual situation
Till today, the Ministry of defence didn't spend a dime on cleaning up, so the voice of the village. Instead, they cut these days 200 year old threes and a company already started to seize the territory for the new constructions. A source spoke about a company from Great Britain, which will built the centre and would get 3,5 Million € for this mandate. Two villages, Dercen and Fornosh collected signatures against the detention centre. 2000 in Dercen and 1000 in Fornosh voted against the centre. This means, almost all adults are against the centre. A party leader of one of the two parties of hungarian minorities expressed in a meeting, that the local representatives of the parties which now rule the country should be set under social pressure. If the new goverment really wants to build the detention centre against the will of local population, this reprasentatives should be expelled from community, like church, associations…